If Absurdus is now the most renowned independant game developer east of the Saint-Laurent boulevard, it hasn't always been the case. Discover this amazing story full of narrative twists.
Prehistory
| | |
| --- | --- |
| In 1865, Auguste Lessard founds Absurdus, a theater company specialized in vegetable theater. He thought he could make avant-garde artistic content more accessible to farmers by using the actors they were most familiar with: vegetables. His plays did not have the social impact he had hoped for, but they did enjoy some success thanks to his innovative idea of eating the actors at the end of their performance. | Original poster of an Absurdus play |
Golden Youth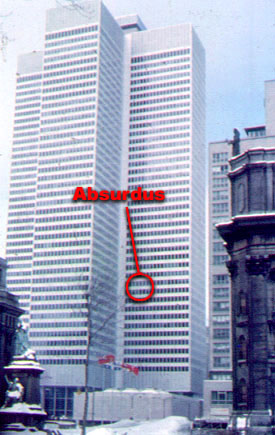 In 2002, the administration board decides to steer the company towards a more promising sector: the video game industry. By focusing on the industry's most popular genre, the humoristic adventure game, Absurdus becomes one of the world's most important independent game developers. With the shattering success of its first game, Eye of the Kraken, the company is able to move its premises to a broom closet in downtown Montreal's Ville-Marie building (see picture). At the time, even the most conservative projections could envision an expansion to both the third and eighteenth's floors' broom closets.
Dark Ages

In 2006, Carte Blanche is finally released after a ridiculously long development time. Despite some good reviews, the overall sales disappoint the creators' oversized artistic egos. Denied the luxurious lifestyle they were accustomed to, they fall in a catatonic state which can only be temporarily relieved by the practice of bilboquet.
Spiritual Renewal

Inspired by the accidental reading of Perceval le Gallois (they thought it was an erotic novel) the creators decide to leave all their earthly belongings to the Foundation for the Victims of Spontaneous Combustion and travel the world separately in quest of the videoludic Holy Grail that would save their company.
Alternative Projects

To finance the creators' spiritual quest (and ensure some income for their families), the company's accountants launch a number of experimental projects.
Their first attempt was the opening of a travel agency specialized in "infectious tourism". It offered its clients the opportunity to experience exotic diseases unavailable at home. Their slogan: "Ludic and Paludic" made a scandal and the agency was unfortunately closed by the WHO.
Strong before adversity, the proud accountants of Absurdus went on with a new project. While perusing the Necronomicon, they had the idea to invoke (with numerous blasphemous rituals) Nyarlathotep, Elder God of many tentacles. They figured they could hire him as a sort of universal mover, being able to accomplish 12 different house moves simultaneously in several cities (and all that at minimum wage!) Alas, bad marketing caused this project to fail as well. Potential customers simply couldn't figure out the meaning of the slogan: "Unspeakable moving at a non-Euclidian price!"
Glorious Rebirth (to come)
Having finally found ultimate inspiration, the creators of Absurdus gathered again to work on a final game: The Eight Tentacles of the Apocalypse. This game, announced for a near but uncertain future, should come as an irresistible wave, crushing the convervative foundations of current adventure games (or not.)